Off-Campus Access
Details About Off-Campus Access:

Many PC Library resources, including databases, ebooks and streaming video, are accessible from off-campus by PC students, faculty, and staff. All you need is your MEID and password. Your MEID is underneath the badge# on the back of your Student ID.
This is what the back of your Cub Card (Student ID card) looks like:
When you click on a database link from our web pages, you will see the login screen below and be prompted for your MEID and password (this is the same login information that you use for My.Maricopa).
Click Submit and you will be sent directly to the database.
Note:
Some of our streaming video titles use a slightly different login method. If your login screen looks like the one below, you can still login using your MEID and password.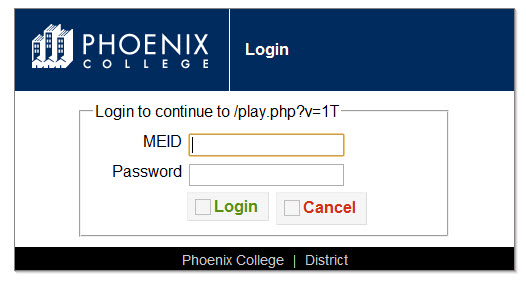 Are you having problems connecting to the databases?
| | |
| --- | --- |
| Problem: | You are not a PC affiliated user. Our license agreements with the vendors of certain databases permit only PC students & employees to use the databases from off-campus locations. |
| Solution: | Come to the PC Library to use the databases. Everyone has access to the databases when using them from inside of our building. |
| Problem: | The service provider's computer is "down" or the Internet is slow for one reason or another. |
| Solution: | Try again later or come to the PC Library and use our print resources. |
| Problem: | You have a firewall installed on your computer and it is prohibiting you from entering the databases. This is common on work computers. |
| Solution: | Temporarily disable the firewall while searching the library databases. If you are not sure how to do this, contact your Internet Service provider (i.e. Cox). |
Please call the PC Library Reference Desk at 602-285-7470 for further assistance or chat with a librarian online from the PC Library homepage.