Enrollment Parties
Enrollment Parties are designed to improve the experiences of returning students, but all are welcome!  
We know you already have a handle on ways to maximize your college experience.  But, it's impossible to know everything...especially as the college updates courses, degree programs, and certificates.  We also have the latest news about financial aid, and are ready to connect you with fresh resources centered around your success.

3 - 6 PM  |  HANNELLY ENROLLMENT CENTER
Thurs,   11-30                   Wed,   12-6                  Tues,   12-12
This Party is All about You!
We'll offer academic advice, and personalized information to help you make informed decisions about your future.  Representatives will assist you with: 
Advising + Developing a Plan for Future Semesters
Registering for Classes
 
Tuition Payment Plans
Financial Aid
Phoenix College's Student Services
Disability Services
Explore Spring Course Offerings
Perusing Find a Class, PC's Online Course Directory, is a great way to check out next semester's course offerings.
Can't Make It to the Party?
Let's Connect Soon.
Connect Virtually
Assistance is available through online meetings, chat, or by phone—using Qless, an online service that allows you to join a virtual line, without being placed on hold.  
The Hannelly Center also welcomes you during regular hours, on Monday through Thursday: 8 am - 6 pm.  Friday service is all-virtual.
 
Parking & Directions
Hannelly Enrollment Center  |  1202 W. Thomas Rd.  |  Phoenix, AZ 85013 
Hannelly is just steps from the West Parking Lot.  Enter the lot near the corner of 15th Ave. and West Thomas Rd., from driveways on either street.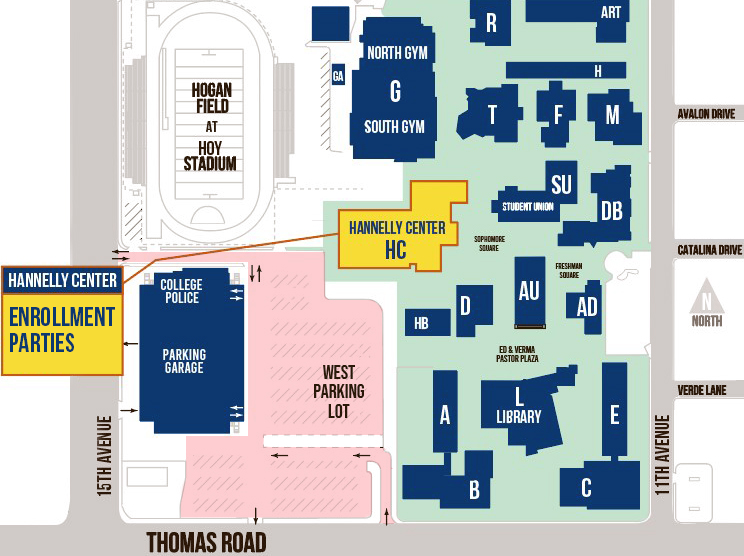 Why Phoenix College?
Phoenix College has offered quality, affordable education to Valley residents since 1920.  Founded to serve a diverse student body, we've been honored as a Hispanic-Serving Institution (HSI).  Over 100 languages are spoken on campus.
PC's longstanding community connections are reflected in programs that connect students with work-based experiences; and, after graduation, one of the most active alumni networks in the Valley.