Wednesday, January 26, 2022
At night, when most Phoenix College students have departed campus for the day, the Audio Production Studio comes to life. Student audio engineers collaborate in the control room, mixing vocal tracks, equalizing and adding effects to sound, and recording live artists and bands in two recording studios.
In Fall 2021, Phoenix College unveiled its newest gem in the well-respected arts curriculum arsenal – a state-of-the-art recording facility and digital audio lab. Heading the studio is noted sound engineer, Jamison Weddle, Coordinator of the Music Industries Studies Program. He has built an amazing team including adjunct professor and owner of Full Well Studio, Mike Bolenbach. The professors rounding out the stellar program are Patrick Driscoll (Live Sound), Matthew Kirkpatrick (Music Business), and Karl Schindler (Electronic Music & Sound Design).
From left to right (back row): Karl Schindler (Electronic Music & Sound Design) and Patrick Driscoll (Live Sound). From left to right (front row): Matthew Kirkpatrick (Music Business), Mike Bolenbach (owner of Full Well Studio & adjunct professor), and Jamison Weddle (Music Industry Studies Coordinator).
The creation of the studio is several years in the making and was a labor of love. The faculty spent hours researching the best equipment and planning the space, even building a sound diffusers and art from scratch. 
"Finally opening the studio is a dream come true. Today's students are receiving the industry-standard studio experience, which is preparing them for what they will encounter in the real world." – Jamison Weddle
Not only is the studio on par with some of the best in the Valley, the instructors are first class, continuing to make waves in the music industry.
Jamison holds many impressive music credits to his name. His experience includes engineering platinum-selling albums for DMX, Kenny Rogers, and the Red-Hot Chili Peppers. Mike Bohlenbach owns his own studio in Phoenix (Full Well) and works with well-respected artists such as Alice Cooper.
"PC encourages the faculty to continue our professional careers outside of Phoenix College. They want to know we are engaged and staying relevant in our careers. This creates the best outcome for the students. They know they are in good hands." – Jamison Weddle
Jamison has worked with well-known musicians and entertainers including Bruce Springsteen & The E Street Band, Willie Nelson, Joe Pesci, Neil Diamond, and David Crosby & Graham Nash. He still collaborates with former E Street Band virtuoso rock guitarist, Nils Lofgren, and helped Lofgren produce several award-winning records. 
"Jamie is a fantastic engineer who I've worked with for over 20 years on a wide range of musical projects, including my own solo albums. Jamie has engineered and assisted me in musical projects with Bruce Springsteen, Ringo Starr and Paul Rodgers, to name a few. A musician himself, he brings those sensibilities and communication skills to the recording process that remain invaluable to me, in addition to staying on the cutting edge of recording technologies.  Jamie's currently working with me on another solo album." - Nils Lofgren
The Music Industry Studies Program at Phoenix College offers several different degrees for students hoping to pursue a career in the musical arts, including Audio Production Technologies and Music Business. For those students who want to test the waters, certificates can be earned in Music Business, Electronic Music, and Audio Production.  
On this particular evening, audio production student and musician, Alexander Danieli, is laying down vocal tracks for his latest album in Studio A. 
"I'm studying to receive an AA in Audio Production Technologies. I already hold a Bachelor's degree (I'm back in school so that I can gain the skills I need to switch industries from my career in marketing), so after I complete this program, my plan is to complete a Master's in Audio Production. My ultimate goal is to become a professional mixing engineer not only for my own work, but for other artists I admire. I'd also eventually like to open a recording studio. Professor Weddle (and the entire program) have been so incredibly supportive of my studies." – Alexander Danieli.
In Studio B, Andy Carrasco Felix is layering sound for his project, taking advice from Jamison, the industry expert.
"He's so laid back. I show him how I want my music to sound and he knows just what to do" – Andy Carrasco Felix
Although the studio is new in 2021, the audio production program at Phoenix College has been shaping young musicians for two decades. Students who graduate from the PC Audio Production Program go on to work with industry giants. 
"Jamie taught me studio production and audio production techniques in 2001. In addition to constantly offering support and friendship since taking his classes, he also prepared me to assume the position of production director at KKFR-FM Power 92.3 (now known as Power 98.3). I was responsible for creating (recording, mixing, and editing) all of the radio commercials, imaging, and every other sound heard on the station that wasn't a live jock talking or music. At present I produce (record mix and edit) a national program called Civic Cipher. His teachings have also helped me in my DJ career, designing and building my studio, and in the few instances where I've had to run live sound at a nightclub that I own called Monarch Theatre in downtown Phoenix." – Ramses Ja '01
"Jamison noticed something in me. He could see I was taking his program seriously so he asked me to assist him with his own projects. I became an intern/runner in his studio while he was working with DMX which was my first real gig.  I later spent five years as Director of A&R with Disney and now run my own entertainment group, collaborating on such tv & film projects as Tom & Jerry, Space Jam, and the HBO original series – Insecure." – Brandon Caddell '03 (BNC Entertainment Group)
The Art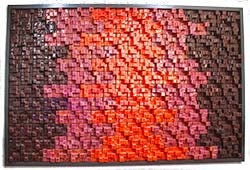 The ceramic diffuser was created over a 6 - 7 month period. The ceramic tiles were cast from a mold created by Karl Schindler (Department Chair, Fine & Performing Arts) and glazed in the PC ceramic studio. PC staff James Reiter and Tom Chubinsky then installed all 240 individual pieces on the wall according to Schindler's direction.
Tony Brinkley (Fine & Performing Arts Events Coordinator) created the wave wall by meticulously etching and painting pink insulation board to look like reclaimed wood. It serves as both an absorber and a cover to the whiteboard in Studio A.
Learn more by taking a 3-D tour of the Audio Production Studio at Phoenix College. https://tours.phoenixcollege.edu/AudioProduction
Do you have a passion for music and want to break into the music industry? Check out the degrees at Phoenix College and find the one that's right for you: https://www.phoenixcollege.edu/degrees-certificates/music-industry-stud…
Are you a local artist? If you would like to submit your band for consideration of a free recording in the studio, contact Jamison Weddle at jamison.weddle@phoenixcollege.edu.