Wednesday, November 15, 2023
While a high school student at Brophy College Preparatory, Marty Manning discovered his passion for theater. After working odd jobs throughout the country after graduation, he decided to come back to Phoenix and enrolled at Phoenix College (PC) in 1965 and joined the Tau Omega fraternity. 
He participated in numerous stage productions, both behind the scenes and as a performer. Acting roles at Phoenix College led to other theatrical adventures at Phoenix Little Theater, Mesa Community Theater, Stagebrush in Scottsdale, and several others. He credits his teachers and instructors at Phoenix College for his passion in theater arts, especially the late John Paul.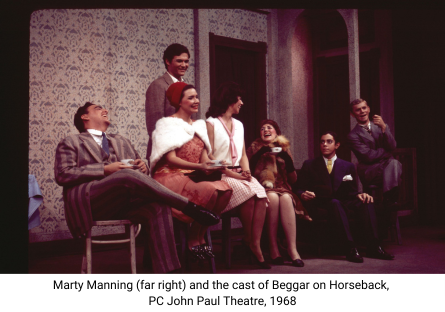 "I was really lucky to stumble into the theatre at Phoenix College, and to discover how much I loved it and how much I could learn. And then, I was even luckier to take what I learned in the theatre and translate that into a career in radio. In fact, I started working in radio while I was still doing theatre at PC."
After graduating from Phoenix College in 1970, Marty worked in the radio business almost continually. He began his career at local "underground" station KCAC, and then joined the initial staff at KDKB.  Other radio jobs took Marty to Austin, Houston, San Jose, and Cincinnati. He returned to Phoenix in 1985 to work at 99.9 (then KLZI, now KEZ) and remained there until his retirement in 2019, after being in radio for more than 50 years. 
In an AZCentral article about Marty's retirement, Beth McDonald, the host of "Beth & Friends" morning show, said, "Marty and I started at the radio station within eight months of each other and have been friends and colleagues ever since. He's one of the smartest and kindest people I know. I consider Marty to be the conscience of the radio station. He makes us want to be better. And I feel that I am just (better) for having known him."
Marty signed off the airwaves at KEZ in 2019.  
And it all started at Phoenix College!
During a recent visit to the PC campus, Marty reflected on his radio career, and his classes at PC.  "The lessons John Paul taught us in theatre class stayed with me for my 50-year career in radio, and I shared his techniques with colleagues many times. For example, John Paul taught us about pronunciation and verbalizing every single sound, telling us that every person in the theater should be able to hear us as well as the person sitting in the front row (of the theater). This was good advice for radio broadcasting as well, which requires great diction and voice projection."
Marty says he's thankful for the theatrical training and the hands-on experience he and other "radio-wannabees" had at PC. "Being in theatre was great. Doing radio was great. But the significant thing was getting a college education," says Marty, which launched a rewarding 50-plus year career. 
The Phoenix College Theatre Program is one of the oldest and most respected theatre programs in Arizona. Theatre at Phoenix College dates back to the earliest years of the college, including the formation of the Masque & Dagger theatrical society, established in 1928. The earliest productions were done in the Auditorium, now called Bulpitt Auditorium, then in Bons Hall. The Theatre Program moved to the John Paul Theatre and the Geoffrey Eroe Black Box, where performances have been produced since 1978.
PC's Theatre Program presents four productions each year, including Theatre for Young Audiences and Spanish-language plays, and Theatre partners with the Music Program to produce a full-length musical every year.  Alumni and community members are invited to audition and attend performances. Learn more at phoenixcollege.edu/theatre. View the current schedule of performances at phoenixcollege.edu/e-calendars.