Dr. Kimberly Britt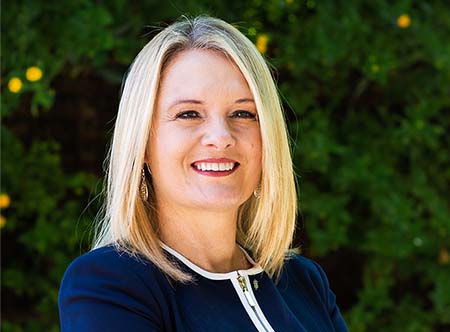 Dr. Kimberly Britt assumed the role of president of Phoenix College on June 1, 2022.
Dr. Britt previously served as Phoenix College's vice president of academic affairs and accreditation liaison officer. In this role, she oversaw seventeen instructional departments and Academic Support Services. Additionally, she was the project administrator for the Title V Grant and led the college through its HLC Open Pathways Accreditation.  Dr. Britt has an extensive background focused on building collaboration to create and reinforce support structures across institutional boundaries to ensure student success and equity. 
Prior to moving to Phoenix, Dr. Britt served as special assistant to the chancellor of the Virginia Community College System, and previously served as vice president of academic and student affairs at Reynolds Community College in Richmond, Virginia for four years. In that role, she led five deans and an assistant vice president of academic and student success strategies, supporting 16,000 students annually across three campuses. She focused on the implementation of Guided Pathways, the development of support services focused on student completion and retention, and the integration of data in course scheduling to ensure student access to the right classes at the right time. 
Dr. Britt has served as vice president for academic and student affairs at Eastern Shore Community College in Melfa, VA, and as academic dean for humanities, arts and social sciences at Thomas Nelson Community College in Hampton, VA. She began her career as an adjunct English faculty member at Horry-Georgetown Technical College (HGTC), part of the South Carolina Technical College System. She was appointed full-time professor of English and went on to serve as the director for dual enrollment and department chair for English, reading, and developmental studies. 
Dr. Britt has experienced firsthand the life changing impact of education. She was a foster youth and lived in a group home for abused children. With support and encouragement from foster parents as well as college employees, she earned her bachelor's degree in English from Charleston Southern University. She then went on to achieve a master's degree in English from Northwestern State University and a Ph. D. in Higher Education Administration from the University of South Carolina. Her experiences have shaped her vision for the possibilities that a strong support network can have in the lives of learners. 
Dr. Britt has a daughter, Ana, who is currently attending the College of William and Mary. In her free time, Dr. Britt enjoys singing and running.