Student Leadership Programs
Spring Maricopa Community College District One Day Catalyst Program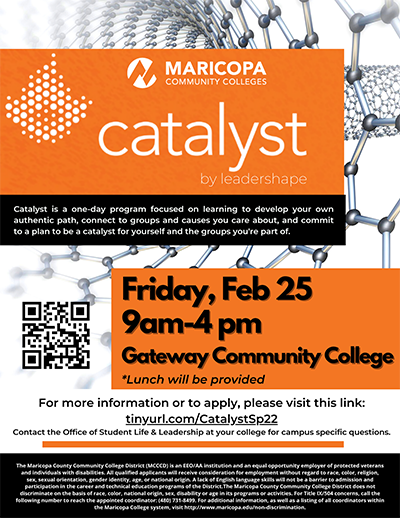 Catalyst is a one-day program focused on learning to develop your own authentic path, connect to groups and causes you care about, and commit to a plan to be a catalyst for yourself and the groups you're part of.
---
LeaderShape 
Apply today for the LeaderShape Institute® is an intensive and energizing six-day educational experience unlike any other college leadership development program. Indeed, over 25,000 college and university students from all over the world have participated in LeaderShape over the past two decades. The institute hosted each summer by the Maricopa County Community College District (MCCCD) is the only session dedicated specifically to community college students.
LeaderShape is taught by two national facilitators as well as ten MCCCD staff/faculty members. The program is filled with hands-on activities, team and character building exercises, and self-reflection opportunities.  
Visit the LeaderShape web site at leadershape.org for additional information or contact Diana Martinez (602-285-7821) or Priscilla Acosta (602-285-7230) in the PC Office of Student Life & Leadership.
---
Student Public Policy Program

What is SPPF?
The Student Public Policy Forum (SPPF) is an academic program that provides an overview of local, state and national public policy making, and citizen influence and involvement. A focus is placed on experiential learning and leadership development through engagement in the public policy process.
What is the Purpose of the Program?
SPPF provides students with learning opportunities that allow them to become educated and involved citizens. Students will have an opportunity to meet with a variety of elected officials and those working in the public policy arena. No prior political experience is necessary, students from all Maricopa colleges, backgrounds, majors, and experiences are encouraged to participate.
Program Components—Fall 
Students must register for POS285 Political Issues and Public Policy. This 3-credit hybrid class is transferable to all three state universities and has a SB general education designation.
Classes are offered at:
*Mesa Community College—Class #24484—Instructor B. Dille *Glendale Community College—Class #33634—Instructor T. Desai
Program Components—Spring 
Students who successfully complete POS285 in the Fall will be eligible to apply to the SPPF Spring Academy. The Academy focuses on experiential learning opportunities giving students an up close experience of how government works and culminates with travel to Washington, D.C., where students have the opportunity to meet with members of Congress and their staff on higher education issues that matter to them.
Does this Program fit into the Priorities of Maricopa Community Colleges?
The program teaches civic responsibility, which is one category within Maricopa's mission statement. The district's Center for Civic Participation oversees the SPPF program and other activities that enhance teaching and learning through the development of civic skills.
For more information about SPPF, visit www.maricopa.edu/sppf or contact the Office of Student Life & Leadership at 602-285-7231.
---
Arizona Town Hall
Arizona Town Hall is a private, nonprofit civic organization created in 1962 to establish, through research and discussion, an ever-increasing body of Arizona citizens accustomed to the processes of searching analysis and well-informed on the many facets of the state's economic, cultural and social life. http://www.aztownhall.org/
For more information about Arizona Town Hall, contact the Office of Student Life & Leadership at 602-285-7231.